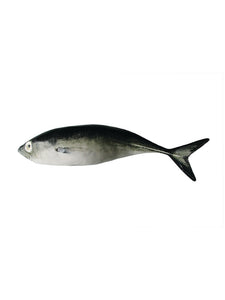 Features:
Part type: Plate
Product type: Earthenware

2.3" x 3.9" x 14.5" (HxWxL)
Exclusive decorative use

Product Description:
The jack mackerel is quite common in the Atlantic Ocean and throughout the Mediterranean. This species is normally found in big shoals all along the Portuguese coast, at moderate depths, feeding on small crustaceans, fish and molluscs. The jack mackerel undertakes considerable migrations and reproduces between December and April.
Between artistic freedom and the reproduction of the animal life, the use of the fish in this service's pieces is the result of an inventive prodigy.