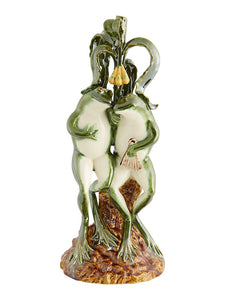 Features:
Part type: Amphibians
Hand Painted Elements
Product type: Earthenware
 12.8" x 5.5" (HxW)
Product Description:
Paulo and Virgínia is a replica, on a smaller scale, of the pair of giant frogs created by Raphael Bordallo Pinheiro in 1889 and intended to decorate lakes and gardens. Tradition says that in the factory, Bordallo named these two characters Paulo and Virgínia, inspired by the novel Paul et Virginie, by Bernardin de Saint-Pierre, written in 1787. This sculptural group decorated the D. Carlos I Park, in Caldas da Rainha, from 1914 to 1920, as can be seen in postcards of the time, and was present in the Portuguese Pavilion of the 1889 Universal Exhibition of Paris. The frog couple was exhibited by Raphael as one of the main pieces of his exhibition in Rio de Janeiro in 1899, as he presented his majestic Beethoven Jar in Brazil.
Copies of the vast legacy of Raphael Bordallo Pinheiro and his son, Manuel Gustavo Bordallo Pinheiro, until 1920, currently produced by the hands of the Factory's craftsmen, using centuries-old techniques.