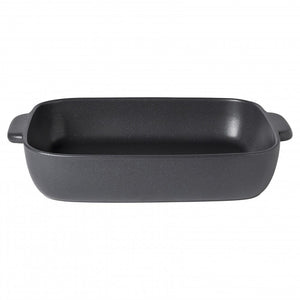 Features:
Fine stoneware
Matte glaze
Made in Portugal
L 19.25" W 12.25" H 3.75"
Oven, microwave, freezer and dishwasher safe. As a precaution, we recommend washing oversized and more delicate pieces by hand.

Product Description:
As an alternative to a more traditional, lustrous look, Casafina's Pacifica collection showcases a matte finish that works as well for everyday meals as it does for weekend casual gatherings. Soft colors like marshmallow rose create a serene and comforting space. Used alone or combined with other pastel colors like vanilla, it also reflects nostalgia, romance and well-being. By contrast, stronger colors like blueberry add a bold statement to the table, without losing the carefree mood of the collection.