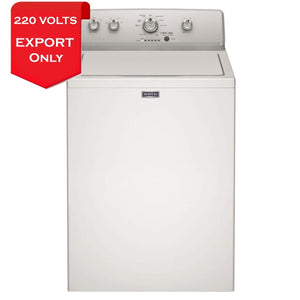 Features:
4 wash temperatures: cold, cool, warm, hot
Rotary electromechanical controls
800 RMP Maximum spin speed
Intelligence sensor
Stainless steel tub
Microtator agitator
Automatic water level
Extra rinse function
Unite Dimensions: 42.5" H x 27" W x 25.6" D 
Color: White 
Product Description:
The Maytag Top Load Washer offers a large capacity for your convenience. This washer comes in a beautiful finish that adds a touch of elegance. Not only that, it has a durable and sturdy construction that ensures long-term use. Furthermore, this washer from Maytag is easy to use, clean, and maintain.