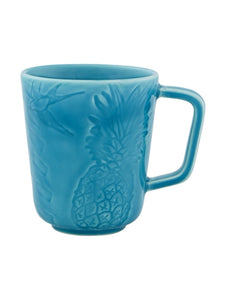 Features:
Made in Portugal

Product type: Earthenware

Measurements: 5" x 3.8" x H4"

Use restrictions: Dishwasher safe. Not suitable for microwaves.
Product Description:
It revisits the artistic universe of Rafael Bordallo Pinheiro, in its various territories: ceramics, illustration, graphic work, where Naturalism is a constant. Line with a contemporary, relaxed and humorous approach. All pieces are different and have a composition that results from a patchwork of naturalistic motifs always associated with unusual graphics of previous study. Possibility to create different moods, by combining the 5 solid colors available, with painted pieces, more utilitarian or decorative.