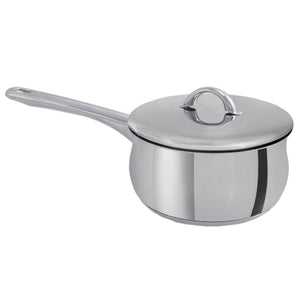 Features
Stainless Steel Plus Protective Shell
Aluminum Heat Diffusing Disc
18/10 Stainless Steal
Capacity
#14 1.1 Quarts
#16 1.6 Quarts
#18 2.3 Quarts
#20 2.9 Quarts
ProductDescription
The Quality concern has been assumed as one of the main principles of the company's management, with its Quality System Certification in 1996, which is nowadays formally expressed inthe Quality Management System implemented in accordance with the NP EN ISO9001:2008 norm. Quality is a concept always present in the reality of Silampos, from the creation of its products to the customer and consumer support. It is implied in every single product and activity.
Its use of raw materials of excellence, resorting to high-end technology and know-how of its collaborators and never neglecting the principles of environment preservation, has enabled the constant trade of products with functional performance and quality throughout the years.
The service provided to the customer and consumer, and the constant development of efficient tools complement the product, conveying it unique features.
ECOCook Concept
Quickness
High performance
Durability
Healthy meals
The constant emphasis on differentiated design leads to functional, aesthetically appealing and environmental-friendly products.
Its high performance ensures quick cooking, significant energy savings, and healthy meals, responding to both consumers and famous Chefs needs.
The kitchenware is manufactured in highly rust-resistant 18/10 stainless steel allowing direct contact with food (more hygienic, more durable).
Best pans ever
My mother bought me a set of these pans 35 years ago while we lived in the UK. They've been in daily use and have held up beautifully. They heat evenly, are a delight to handle, and clean up great. Unfortunately due to a stupid thing I did I ruined one. I researched the make, never thinking I would be able to replace it here in the US. But fortunately Portugalia sells these and ships free to my location! I received it in a few days! Can't tell you how pleased I am and I know this pan will outlive me for sure. Reasonably priced for fabulous quality and made in Portugal, not Cina! What's not to love?
Amazing Sauce Pan!!
I wish I had bought these sauce pans years ago! The pan is heavy duty, cooks evenly on the bottom of the pan so you don't have hot spots or sticking on the bottom of the pan. Silampos will be the only brand that I will buy in the future. If well taken care of, they will last a lifetime. Plus, Portugalia shipped my order extremely fast and packaged my order with care.