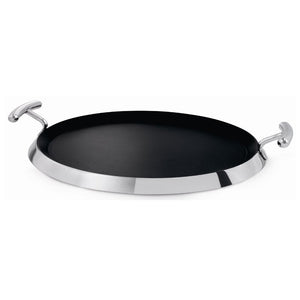 Features
Stainless steel (polished finish).
Handles with a single point through which heat is transmitted.
Force Flon non-stick coating composed of three layers (higher strength / less wear).
Made in Portugal.
Measurements: 10 Inch diameter (cooking surface)
ECOCOOK CONCEPT
Quickness
High performance
Durability
Healthy meals
The constant emphasis on differentiated design leads to functional, aesthetically appealing and environmental-friendly products.
Its high performance ensures quick cooking, significant energy savings, and healthy meals, responding to both consumers and famous Chefs needs.
The kitchenware is manufactured in highly rust-resistant 18/10 stainless steel allowing direct contact with food (more hygienic, more durable).
Product Description
A selection of products that are distinguished by their design and quality. It's aesthetic and performance characteristics will shine on your kitchen and table.