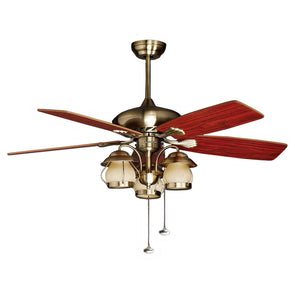 Will Not Work In The USA – Export Only
Features
Fan size:

1220mm

(48 ")
Motor specifications: 188x12mm.
5 Reversible Blades
Fan height: 73cm - 29 Inch
Lamp configuration: Three (3)  lamps
Fan Power: 70W
Reverse Switch
Color: Antique Brass
High Efficiency Motor
What function can the reverse switch perform?
In the summer, pushing the reverse switch DOWN creates a wind chill effect and makes you feel cooler by accelerating the evaporation of perspiration on your skin. When used in conjunction with an air conditioner, it will lower energy costs.
In the winter, pushing the reverse switch UP helps push the warm air trapped near the ceiling back down, gently re-circulating the warm air in the room. The heating system will not overwork to warm the room.
Installation Adviser
Installation must be carried out by a qualified wiring installer
The ceiling mounting hook must be able to with hold a minimum of 35 pounds
The Fan must be mounted at a minimum height of 7ft of clearance from the floor
Do not operate the reverse switch when the fan is still in motion
Do not place any objects in the path of the blades