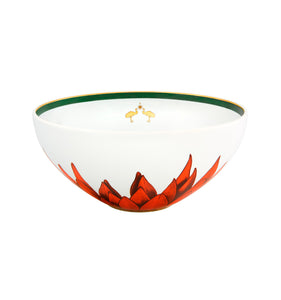 Features:
Enhanced with gold
Style: Contemporary
Part type: Salad Bowl
Product type: Porcelain
4.9" x 10.2" (HxL)
Capacity: 121.9 oz.

Not suitable for microwaves. For dishwashing we advise short cycles at low temperatures. Avoid frequent use in dishwashing.
Product Description:
Inspired by the book "Viagens Philosophicas" (philosophical voyages) by the naturalist Alexandre Rodrigues Ferreira, as well as by the fauna, flora and people of today's Amazōnia, this collection, which was developed in partnership with Ecoarts Amazōnia, gathers all of the group's brands for the first time, namely Vista Alegre, Casa Alegre and Bordallo Pinheiro.
Designer Ecoarts Amazōnia:
Ecoarts Amazōnia was founded 15 years ago by the third generation of a family of seven women who had spent their childhood in the Brazilian Amazon, and who wanted to give future generations the certainty of seeing the native forest still standing. With the forest as the setting and inspiration, the family launched an association in 2008, which now includes a collection of people (collectors, artisans, artists, freelancers, researchers and other volunteers) who, in a collaborative system, create exclusive products and develop initiatives combining knowledge with innovation, products with purposes, conservation with development and luxury with ancestry. As a non-profit organization, classified as a Civil Society Organization of Public Interest (OSCIP), Ecoarts Amazōnia allocates its profits to the planting of native fruit trees in cities, indigenous villages and rural areas within a project named the "Food Forest". Ecoarts Amazōnia is thus an ecosystem of people who are breaking new ground in the environmental, cultural and socioeconomic sustainability of the Amazon rainforest, and whose creations tell stories of seeds, leaves, rivers and people.