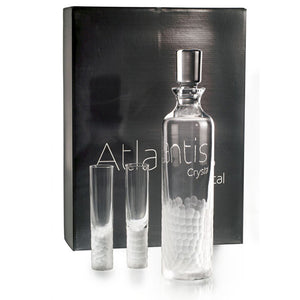 Features:
Handmade Crystal
Style: Contemporary
Part Type: Barware Set
Product type: Crystal
Use restrictions: Not suitable for microwaves. For dishwashing we advise short cycles at low temperatures. Avoid frequent use in dishwashing.
Product Description:
A set for vodka, where the simplicity of the forms highlights the stoning handiwork, with a satin finish on the lower part of the pieces. A decoration that stands out for its purity and transparency, reminding us of the drink that it is intended for.