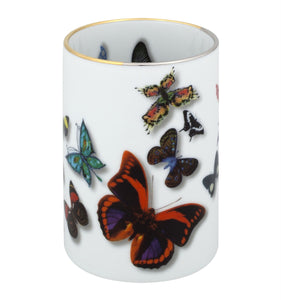 Features:
Enhanced with Gold and Platinum 
Hand-Painted Elements
Style: Contemporary
Part type: Coffee Cups
4.2" x 2.9" (HxL)

Not suitable for microwaves. For dishwashing we advise short cycles at low temperatures. Avoid frequent use in dishwashing.
Product Description:
A parade of real and imaginary butterflies flying over the pieces, with notable three-dimensional effects. Dinner set and decorative pieces with handmade details in gold and platinum. Lush and rich, the Butterfly Parade allows you to "mix and match" with the remaining Vista Alegre Christian Lacroix decorations. A collection that is luxurious and bold, fun and exquisite, blending the iconic elements of both brands.
Designer Christian Lacroix:
The passion for porcelain brings together two premium brands of worldwide reputation, which are characterized by the constant innovation and high quality design: Christian Lacroix and Vista Alegre. These two insignia joined forces to offer the best that they have, giving life to the first collection of porcelain of the Christian Lacroix Maison and the first luxury line of Vista Alegre in partnership with a brand of haute-couture. The Christian Lacroix house was founded in 1987 by the LVMH group.