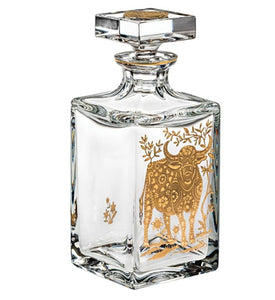 Features:
Style: Classic
Part Type: Whisky Decanter
Product type: Handmade Crystal
Measurements: 9.05" Height; Capacity: 27.05 oz.
Use restrictions: Not suitable for microwaves. Not suitable for dishwasher.
Product Description:
In the ancient Chinese zodiac, the 12 signs are represented by animals, real and imaginary. Chosen for their temperament, they symbolize the dominant qualities and traits of each sign. In this collection, these qualities are conveyed on pieces with numerous engraved and gold-painted details, reminiscent of traditional Chinese designs.
Elegant and functional, the pieces stand out for both their artistic character and delicate mysticism.