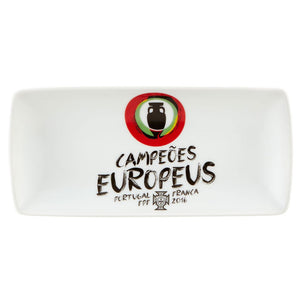 Features
Collection: EURO 2016 Champions
Style: Contemporary
Part Type: Plate
Product type: Porcelain
Artist: Rui Fazenda
Measurements: 1.37" x 7.37" x 10" (HxLxW)
Product Description
Vista Alegre joined the Portuguese Football Federation (PFF) to proudly mark the victory of Portugal in Euro 2016. As a result, two commemorative pieces of restricted production and temporary commercialization were created.
TheEuro 2016 Collection consists of a plate, signed by the illustrator Rui Fazenda, which depicts the moment that the Portuguese team raises the Cup, having inscribed on the back the names of the coach and of the 23 players; and also a smaller plate with the inscription European Champions, whose image was specially developed by the PFF to celebrate the victory.
Available for a short period of time, this collection allows you to immortalize a unique event of the football Portuguese history with functional and stylish pieces, with the prestige label Vista Alegre.