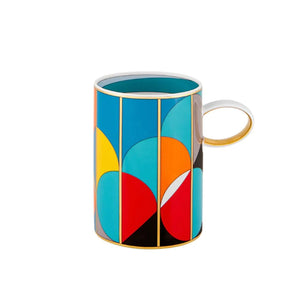 Features:
Enhanced with gold
Style: Contemporary
Part type: Mug
Product type: Porcelain
4.4" x 3" x 4.4" (HxWxL)
Capacity: 13.6 oz.

Not suitable for microwaves. For dishwashing we advise short cycles at low temperatures. Avoid frequent use in dishwashing.
Product Description:
The Futurismo collection is a contemporary reinterpretation of the pioneering movement of all modern movements, celebrating progress and marking a period of reinvention of artistic languages. Here are the vibrant and contrasting colors, the geometric shapes full of oblique lines, circles and divergent angles, bordered by lines of force, creating an idea of vigorous movement. The speed that futurists loved thus finds new expression in an elegant and timeless line, full of dynamism and expressiveness.