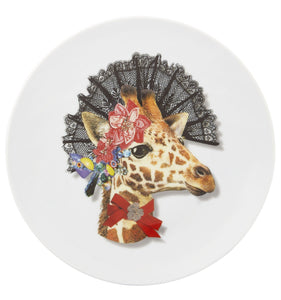 Features:
Style: Contemporary
Part type: Plate
Product type: Porcelain
1.1" x 9" (HxL)
Product Description:
Intermingling contemporary and haute couture designs of the house of Christian Lacroix, the new Christian Lacroix Maison - Vista Alegre gift collection is composed of various items representing exuberant and extraordinary personalities, such as "Mister Tiger" or "Doña Jirafa", clearly illustrative of the unique imagination of the French brand. Inspired by a game created by the French surrealists in the 1920's, where various artists imagined the continuation of a painting not knowing what had been painted previously, the Love Who You Want collection is yet another irresistible youth proposal which combines the best of the two mythical brands. Collection awarded with an honorable mention by the German Design Award 2017.
Designer Christian Lacroix:
The passion for porcelain brings together two premium brands of worldwide reputation, which are characterized by the constant innovation and high quality design: Christian Lacroix and Vista Alegre. These two insignia joined forces to offer the best that they have, giving life to the first collection of porcelain of the Christian Lacroix Maison and the first luxury line of Vista Alegre in partnership with a brand of haute-couture. The Christian Lacroix house was founded in 1987 by the LVMH group.