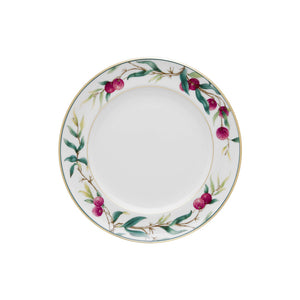 Features                
Style: Classic
Part Type: Plate
Product type: Porcelain
Measurements: 6.75" Inch Diameter
Use restrictions: Not suitable for microwaves. Not suitable for dishwasher.
Product Description
Vista Alegre china is the dream of Jose Ferreira Pinto Basto. Influenced by the success of the Marinha Grande glass factory, Pinto Basto decided to create a porcelain, glass and chemical processes factory in Portugal. From 1832 on, Vista Alegre china has worked towards perfecting porcelain.
To date, besides being the leader in the Po21082947rtuguese market with one of the state-of-the art and top quality porcelain plants in the whole world, Vista Alegre china continues developing and preserving hand-made porcelain, hence honoring its tradition. Vista Alegre china is, without a doubt, an institution in Portugal and in the world, a synonym of excellence and unmatched quality.