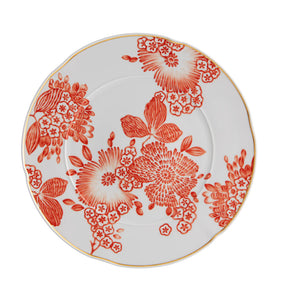 Features:
Enhanced with gold
Hand-Painted Elements
Style: Classic
Part type: Plate
Product type: Porcelain
1.1" x 12.9" (HxL)

Not suitable for microwaves. For dishwashing we advise short cycles at low temperatures. Avoid frequent use in dishwashing.
Product Description:
Decorated with a palette of warm and strong colors, Coralina reflects the passion that Oscar De La Renta felt for these natural shades represented in the fragrances, haute couture clothing and accessories with his signature.
Designer Oscar De La Renta:
Synonymous with timeless style and exquisite craftsmanship, Oscar De La Renta has been one of the leading houses in the world of haute couture since 1965, a reference of luxury and design worldwide. In addition to its award-winning women's ready-to-wear collection, the New York-based company encompasses a full line of women's accessories, bridal fashion, children's wear, beauty lines, perfumes, and home goods. Defined by vibrant colors, rich materials, and exquisite embellishments, each costume reflects the inimitable quality and attention to detail that make. Appointed in 2014, creative director Peter Copping has come to consolidate the house's aesthetic heritage, characterized by enduring elegance and refined taste, with a markedly modern twist. Under the creative direction of Carolina Irving, the Oscar De La Renta Home Collection is, in turn, inspired by the brand founder's way of living and receiving in each of his homes: urban sophistication in New York; rural refinement in Kent, Connecticut; tropical exuberance in his native Dominican Republic.