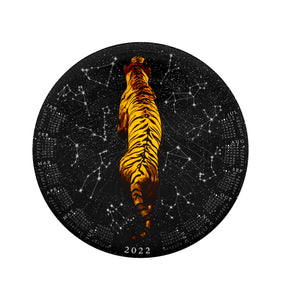 Features:
Enhanced with Platinum
Style: Contemporary

Part Type: Plate
Product type: Porcelain
Measurements: D 13"
Decorative Use Only
Product Description:
We often seek meanings in other realms so as to understand ourselves: signs that life gives us, people we live with, objects that are given to us, religions, legends. The zodiac is one of those realms that urge us to try to understand the influence of the stars and of time. The Tiger and the Stars is a mixture of two horoscopes: 2022 is the "Year of the Tiger" in the Chinese zodiac and it is the one that walks confidently in the waters of the western zodiac, influencing and being influenced. "Sometimes its surroundings are confused with a reflection of something that is distant, but surely it is a land animal that is between the water and the sky" by Eduardo Fonseca.