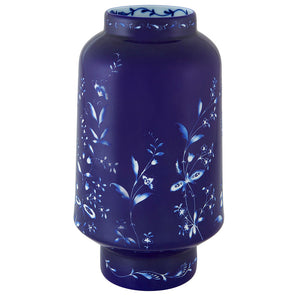 Features:                
Iconic Awards 2018 Winner; Nominated for the German Design Awards 2017
Enhanced With Hand-painted Elements
Style: Contemporary
Part Type: Vase; Product type: Porcelain
Measurements: 12.9" Height x 7.4" Length  
Product Description:

The Midnight collection, designed by the German designer Mendel Heit, arises through the combination between the cultural heritage of Vista Alegre, the most contemporary design and innovative decorative techniques. The shapes are inspired in the classical pieces, at the same time the decoration reinterprets the drawings of the tableware Margão.

Midnight merges, through an inventive and technically complex process, techniques that are used both in porcelain and in crystal. After being produced and decorated at the porcelain factory, the pieces travel to the world of crystal, in Alcobaça, where, through engraving by sandblasting, along with a high fire cobalt blue, the embossing of the floral drawings is obtained.
Two pieces of great elegance, rich in extremely delicate details.
Collection nominated for the German Design Awards 2017.