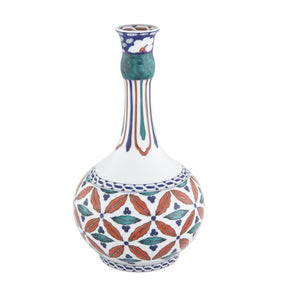 Features:
Style: Classic
Part Type: Vase
Product type: Porcelain
10.5" x 5.9" x 1.8" (HxWxL)
Product Description:
An Iznik ceramic plate, belonging to the permanent collection of the Calouste Gulbenkian Foundation, inspired a new Vista Alegre set, which adopts the Greek name of the place where it was produced (Nicaea), between the 15th and 17th centuries. Created circa 1580, this piece of great rarity reproduces an Ottoman decorative pattern known as "çintamani", present in tableware and tiles of the era, as well as on carpets and textiles, among other items. The specific pattern, now transposed to Niceia, takes on the particular meaning of "strength and courage" in Ottoman art.