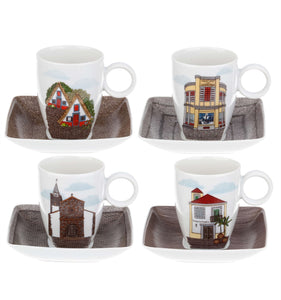 Features:
Style: Contemporary

Part type: Coffee Cups
Product type: Porcelain
2.4" x 3.7" x 3.7" (HxWxL)
Product Description:
A collection of a cultural nature, based on traditional icons of cities in Portugal for those who appreciate the picturesque representation of the culture and the best that the cities have to offer. Based on the traditional icons of the Madeira Island.
Designer Beatriz Lamanna:
Beatriz Lamanna was born in São Paulo and grew up in Rio de Janeiro, Brazil. She has a degree in Visual communication from the Pontifícia Universidade Católica do Rio de Janeiro and a Master's Degree in Textile and Surface Design at the Istituto Europeo di Design in Madrid, Spain.
Beatriz owns her signature design studio in Rio de Janeiro and works in the areas of graphic design, branding, stamping and illustration for various clients, especially for Vista Alegre, which she continues to develop several collections on "the souls" of cities with.