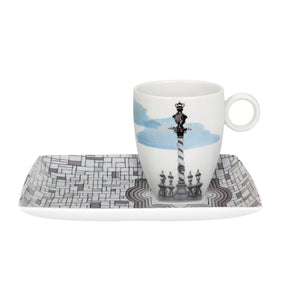 Features
Collection: Soul of Porto,

 

Alma do Porto
Style: Contemporary
Part Type: Tray
Product type: Porcelain
Artist: Beatriz Lamanna
Measurements:
Tray: 8.6" x 5.8" x 1" (LxWxH)
Mug: 4.5" x 3.25" x 3.75" (LxWxH)
Microwaves safe. For dishwashing we advise short cycles at low temperatures. Avoid frequent use in dishwashing.

Product Description
A collection of a cultural nature, based on traditional icons of the city of Porto.
Come to Porto with Vista Alegre and visit the Sé (Cathedral), the wine cellars of Port wine, the river and the typical kiosks of the northern capital. You can also enjoy a Rebelo boat ride on the river Douro with its magnificent D. Luis bridge.
Other available collections: 'Alma de Lisboa', 'Alma da Madeira', 'Alma de Madrid' and 'Alma do Rio de Janeiro'.