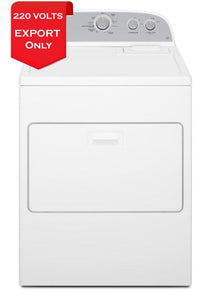 Features:
220-240 Volt /50 Hertz, 6 A, Not for USA, Export Only

15 kg / 33 lbs. Dry Linen Capacity

7.0 cu. ft. Drum Capacity

White Color with Silver Metallic Console

Large Opening Drop-Down Door

Top-mounted Lint Screen

Electro-Mechanical Controls

On/Off Push-to-Start Power Button

End of Cycle Option

4 Temperature Levels:

Low (small load)

Medium (casual/normal load)

High (heavy load)

Air Dry / No heat

8 Timed Dry Cycles

4 Automatic Dry Cycles:

Less dry

Energy preferred

More dry

Very dry

3 Fluff/Air Dry (no heat) Cycles

Wrinkle Shield (max. 40 min)

Cool Down Phase

(4) Height-Adjustable Feet

Universal Power Cord with Schuko Plug (Type F) and South African Plug

Made in USA

Prepared for Natural Gas, can be converted to LP with kit
Specifications:
Net (inches): H 42 x W 29 x D 27 13/16

Net (cm): H 106.7 x W 73.7 x D 70.6

Carton (inches): H 44 x W 31 x D 29

Voltage: 220-240 Volts/ 50 Hertz, 6AGross

Weight: 53.2 kg/ 117 

lbs.
Product Description:
For 2021, Whirlpool introduces its Large opening Drop-Down Door on its Gas Dryer built for the 220-240 Volt/ 50 hertz markets.  While boasting a 7.0 true cubic foot drum, and a 15 kg Dry Linen capacity you can be assured its equipped to handle all of your laundry loads.  Among its heavy duty nature, it also performs 8 timed dry cycles as well as 4 automatic drying cycles. Heavy duty, Whirlpool dependable, yet gentle for all of your types of clothing.